Website Revamp vs. Website Redesign comparison
Website is the fundamental and representation of your business or company.
Why to have a new website -

If you have a new information for your website and want to change the website.
Keeping tabs with the latest online technology is important, this can improve efficiency and your business transactions.
You're moving to a new market, targeting different audience that needs to attracted by business name, products and service or logo
What is the difference between website redesign an website revamp.

Website redesign and website revamp have the same purpose is to build a good website
There is two options can go for it.  Website redesign and website revamp.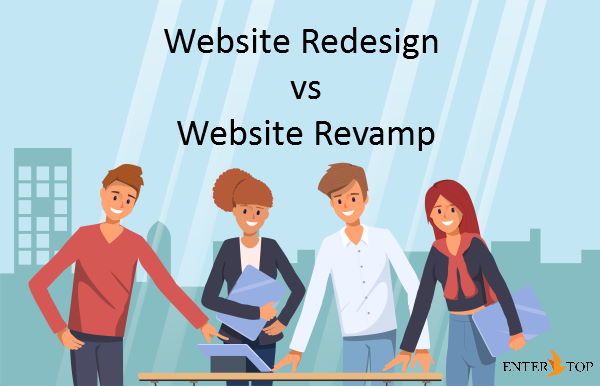 Below is the comparison table to show the difference.
Website Redesign (Website Rebrand)
The reason to build an new website sometimes because you need to have a better idea or site isn't responsive (mobile friendly),  need rebranding or enchance user-experience
Fees
The fee will be higher than website revamp
Time needed
The time will take longer to complete the website because of CMS migration, website colour scheme have to come out a new idea, new concept of the website need to bring out
Brand new design & reposition the business goal
Web design company agency will study the business objective for creating the brand new design concept, identity & marketing framework.
Content Structure
Normally  the web designer and web developer  will work together to create new web content layout and change the themes for the new website content.
Software use for Website Redesign
Adobe Photoshop or Adobe Illustrator to create new layout draft and use HTML editor or CMS to develop the website
Website Revamp

If you satisfy with the current website UI and UX, and you just want to change the content and information to increase conversion or for SEO ranking improvement.
Fees
The fee will be lower than website redesign. Website Revamping is the most cost effective changes of the website
Time needed
The website layout and structure will be maintain. Only update the web elements and content. The time needed is less.
Content Structure
Most of the time the website content management system CMS will keep not change.  All the web navigation menu, web header and web footer will be the same with previous website.
Software for Website revamp
CMS system with web builder tools, like WordPress, Drupal web builder plugin.
How to Rebrand Website.
Get a new domain name
Design a new website or clone the website into new domain name
Redirect the old domain name to new domain name
Update web content.
Update the SEO link
Looking a web design company Malaysia?
Let's Start, Grow, and Monetize your website + business with Us.
Drop us a line today for a free quote! or logon our web design package
Website Maintenance Service in Malaysia
Malaysia Web Design Price and Package 2020
Common problems and best practices for Minimalism Web Design
Ranking Factor checklist – Guide Line given by SEO company malaysia